What is the Difference Between an Optometrist and an Ophthalmologist?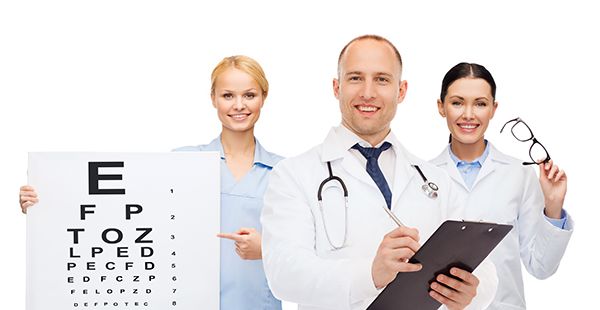 It's frustrating when two words seem similar, and are connected, nevertheless have different meanings. Case in point: "optometrist" and "ophthalmologist." Both are titles for eye care professionals. Understanding your options will help you choose the right provider with confidence. Below, our team explains the difference between an optometrist and an ophthalmologist. You'll find both doctors right here at SightMD.
What is an Optometrist?
An optometrist is the eye care professional who you visit for your annual vision exam. (And we at SightMD hope you schedule and keep these appointments regularly.) Once they graduate from college, they must complete four years of a professional program to obtain a doctor of optometry degree. Some optometrists undergo additional clinical training while others pursue specialty fellowships. Your optometrist conducts exams, prescribes medications if necessary, and provides overall monitoring of eye health. Another task of the optometrist is to diagnose and note if there are any serious issues with your vision. In the event any issues are particularly serious, the optometrist will refer you to—that's right—an ophthalmologist.
You might consider visiting an optometrist if you need:
● An eye exam or vision test
● A corrective lens prescription or fitting
● Help monitoring an eye condition such as diabetic retinopathy
● Diagnosis and treatment for an eye condition such as dry eye
● Vision therapy and low-vision aids
What is an Ophthalmologist?
Ophthalmologists are eye doctors that are equipped to handle complex eye conditions and perform eye surgery. Ophthalmologists go to medical school before completing a one-year internship and a three-year residency. They might also finish a fellowship lasting for one or two years.
You should book an appointment with an ophthalmologist if you need:
● Vision services such as eye exams
● Help monitoring an eye condition such as diabetic retinopathy
● Diagnosis and treatment for an eye condition such as dry eye
● Medical eye care for conditions like glaucoma
● Surgical eye care for glaucoma, cataracts, and other issues
● Ophthalmic plastic surgery to address functional or cosmetic concerns
To find out further details about the responsibilities and education required of an optometrist and ophthalmologist, read our blog—What Do You Call a Person Who Checks Eye Problems? (which also explains the tasks of opticians).
Schedule Your Eye Appointment Today
Optometrists and ophthalmologists have an important role in your eye care team. These specialists often work together to offer comprehensive care. While we value the services provided by both professionals, we hope that your eyes will remain as strong and healthy as possible. In the event serious attention is needed, however, rest assured that the optometrists and ophthalmologists at SightMD will tend to you with the best care possible, complemented by state-of-the art technology. You can easily make an appointment with one or both of these experienced providers by calling 855-295-4144. SightMD has office locations across Connecticut, New York, New Jersey, and Pennsylvania for your convenience. We strive to employ only the very best eye care professionals in the region.