Why Choose a Local Optical Shop
Our office is part of your community and the health of your eyes is our main concern. We want you to have sharp vision and great comfort with your glasses and contact lenses. Different prescriptions require certain frame styles and lens treatments for your glasses to perform well and look great. Our trained doctors can guide you through this process.
We offer hundreds of frames from which to choose, including a large selection of children's frames. We can help you find the size, shape and color of frame that is perfect for all family members. When it comes to contact lenses, we offer a full spectrum of the latest and best performing products. Even if you have been told before that you cannot wear lenses, we may have a solution that is right for you.
Did you know that prescription eyeglass lenses today can be computer-engineered to exact specifications? With the use the latest technology we can create custom lenses that offer greater clarity and a wider field of vision.
Designer Frames
We have a wide selection of frames and lenses ranging from inexpensive to designer. We carry dozens of designer names including Coach, Prada, Fendi, Vera Wang, Vera Bradley, Michael Kors, Ted Baker and Juicy Couture. We also have an extensive selection of non-prescription sun wear and sports glasses for all your specialty needs.
Lenses and Coatings
Lens coatings are applied to eyeglass lenses to enhance the durability, performance and appearance of your glasses. This is true whether you wear single vision, bifocal or progressive lenses. If you're thinking about purchasing new eyeglasses, you might want to consider the following lens coatings and treatments
Anti-Reflective Coating
Anti-reflective coatings increase light transmission through the lenses to 99.5 percent. They make it easier to see and easier for others to see you. These coatings are especially useful for those viewing computer screens and driving at night.
Bifocal Lenses
For many people, different lenses are needed for seeing at different distances. Bifocal lenses allow the wearer to look through two areas of the lens. One area focuses on distant objects and the other is used for reading.
Cosmetic and Specialty Tints
Eyeglasses can be a stylish accessory, a part of your personality, or a way for you to be unique. There are a variety of frames to choose from, but you may not know that there are also many ways to improve the appearance of the lenses. Cosmetic tints are also available and these tints offer a variety of colors and shades. Some lenses are clear at the bottom and gradually get more colored towards the top of the lenses. There are many ways to adjust your lenses to whatever style suits your personality.
Digital Lenses
Offered in a multitude of different styles, digitally surfaced lenses are the most current technology in the optical field. Replacing the antiquated process of spinning lathes, the new digital technology uses computers and lasers to etch the patient's individual prescriptions into lenses with flawless accuracy. The primary benefit of this technology is the removal of peripheral distortion. Using the old technology, one of the complaints was always the feeling of a "fishbowl effect" when looking out the sides of your eyeglasses. The lasers used can alter the prescription throughout the entire surface of the lens, thus removing a large portion of the preexisting distortion.
High Index Lenses
Before the last few years, the only materials available for use as lenses were glass and a hard resin until recently, high index lenses have become available. High index materials are named because they have a higher index of light refraction. They can do the same job that glass or CR-39 does, but high index lenses are much thinner and lighter. With high index lenses, you can avoid having "soda bottle" lenses.
Progressive Lenses
One of the main problems with bifocal and trifocal lenses is the problem of eye fatigue. It is difficult to switch from one focusing power to another. This can make your eyes tired, and it can even lead to a headache, sore neck and back. A recent variation of bifocals and trifocals is the no-line lens or progressive lens. No-lines provide a smooth transition from focusing on nearby to focusing on distant objects because they do not have a distinct line which separates the focusing powers. Instead, a gradual change in power allows the wearer to focus on objects at all distances. Distant objects are viewed through the upper portion of the lens, while near objects are viewed through the middle or lower portion of the lens. These are a great option for computer users.
Photochromics
If you have ever felt frustrated at needing both prescription glasses and prescription sunglasses to accommodate an outdoor lifestyle, you should consider photochromic lenses. Photochromic lenses darken when exposed to UV rays. When the wearer goes outside, the lenses darken or tint. When the wearer goes back inside, the glasses become clear.
Polarized Lenses
Glare from wet roads, light reflecting off other vehicles, and glare from your own windshield can be annoying and dangerous. To eliminate this glare, we offer polarized lenses which eliminate almost all glare, reducing eye strain and increasing visibility. Polarized lenses are the most effective way to reduce glare.
Scratch Resistant Coating
Resins and plastics are more susceptible to scratches than glass. Scratches damage the cosmetic look of the lenses and compromise their performance. With a scratch resistant coating, you do not have to worry as much about minor scratches on your lenses.
Trifocal Lenses
Bifocals allow the wearer to read through one area of the lens, and to focus on distant objects through another area of the lens. As the eyes age, though, a stronger prescription is often needed to read. The stronger prescription that allows for reading makes it difficult to focus on objects at intermediate distances, such as grocery items on a shelf or your speedometer. Thus, trifocals are necessary for a third prescription for intermediate focusing.
Specialty Eyewear
The specialized lenses also optimize your vision. Depending on your sport, certain lenses are more appropriate than others. Dark, UV protection lenses are great for baseball and other outdoor sports. Golfers can benefit from gray-brown colored lenses which make it easier to outline the course. Even if you do not normally wear glasses, non-prescription sports lenses can benefit your performance. Some people think that lenses prevent the wearer from seeing the action, but many sports lenses have anti-fog, glare reduction, and scratch resistant properties. Some are also designed to maximize peripheral vision.

Another product to consider is a pair of polarized sunglasses. Polarized lenses block light reflected from surfaces such as a flat road or smooth water. If you are involved in activities such as water sports, skiing, golfing, biking, fishing, and even driving, polarized lenses can be very helpful in reducing glare and giving a clearer view.
Paying for Glasses & Contacts
We offer competitive pricing and affordable eyewear packages. We accept many different insurance plans. To save time at the office, review your insurance policy beforehand and make a note of which benefits apply. If you are unsure, we will be happy to assist you so that you do not incur unexpected costs.
Contact SightMD today to schedule an appointment with one of our doctors to discuss your vision health at one of our convenient locations!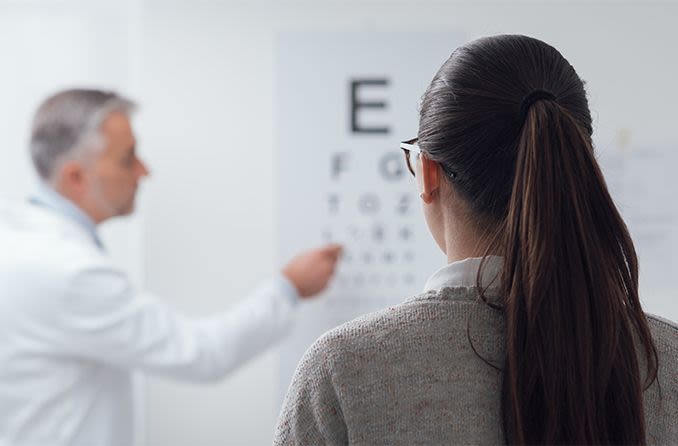 Can LASIK eye surgery fix astigmatism?
What is Astigmatism ? Astigmatism is a common type of refractive error and while it is usually present at birth,…
Read More