How Does iLASIK™ Differ from Traditional LASIK?
At SightMD, our goal is to provide our patients with the most outstanding results achievable in a safe, comfortable, friendly environment. To this end, we are pleased to offer the latest advancement in the evolution of LASIK technology at our New York and Connecticut practices: state-of-the-art iLASIK™. This entirely bladeless form of LASIK uses IntraLase™ technology for greater precision, control, and patient safety than were possible in the past. Truly, iLASIK™ takes customized laser eye surgery to an unprecedented new level, allowing a greater number of people to benefit from the crisp, clear vision that the LASIK procedure offers.
For years, traditional LASIK has been performed safely and with consistently good to excellent results. However, there were some drawbacks associated with the procedure. For one, in order for the laser to reshape the cornea, an incision first has to be made in the surface of the cornea; this incision was made using a cutting instrument called a microkeratome. While the microkeratome was reasonably safe and precise, it did introduce a layer of risk that is removed with blade-free LASIK. Also, while traditional LASIK in its most basic form very effectively treated the most common vision problems – nearsightedness and farsightedness, with or without astigmatism – it was less effective in treating more minute flaws in the shape of the eye. As a result, even those whose vision improved noticeably after the procedure often still had to wear glasses or contact lenses during certain activities.
With iLASIK™, these drawbacks have become a thing of the past. Our iLASIK offices in Long Island features the IntraLase™ system, which allows our surgeons to create a flap in the cornea using an extraordinarily precise laser rather than a blade, resulting in a 100-percent bladeless LASIK procedure. And even the smallest aberrations in the eye can be treated through the use of WaveScan™ corneal mapping with iris registration and the computer-guided iDESIGN vision correction system. From beginning to end, the iLASIK™ experience is centered entirely on the patient and his or her unique vision needs.
Benefits of iLASIK
When deciding which LASIK procedure is best for you, there are several advantages to iLASIK you should consider. The use of an Intralase laser instead of a microkeratome allows for better control of flap diameter, depth, centration and morphology. The increased safety and precision of this procedure results in three times more flap stability than a microkeratome-created flap. Additionally, with this laser vision correction procedure, the use of eye-mapping technology allows for a much better vision result after surgery.
Risks of iLASIK
There is a small risk of developing a condition called transient light sensitivity syndrome (TLSS). An older medical study found that TLSS was associated specifically with the iLASIK procedure, occurring in about 1 percent of those who underwent laser vision correction with the IntraLase device. However it is important to note that advances in LASIK technology have made complications like these more and more rare.
iLASIK Procedure
Many people are surprised to learn that the iLASIK™ procedure requires only minutes. First, one of our surgeons will use a computer to create a highly detailed map of your eye, one which highlights even the smallest errors in its construction. During the mapping process, iris registration technology is used to determine the position and specific characteristics of your iris, ensuring precise alignment for the procedure. Second, a tiny flap will be created in the surface layer of your cornea by the IntraLase™ laser. Finally, the data collected during your corneal mapping is used by the computer-guided iDESIGN laser to make extremely fine corrections to the shape of your cornea. Once these corrections have been made, the corneal flap will be replaced and left to heal on its own.
iLASIK Results
That's it. The procedure is practically painless, and the results are swift. The great majority of people who have undergone iLASIK™ have emerged from the procedure with 20/20 vision or better and absolutely no reliance on glasses or contact lenses.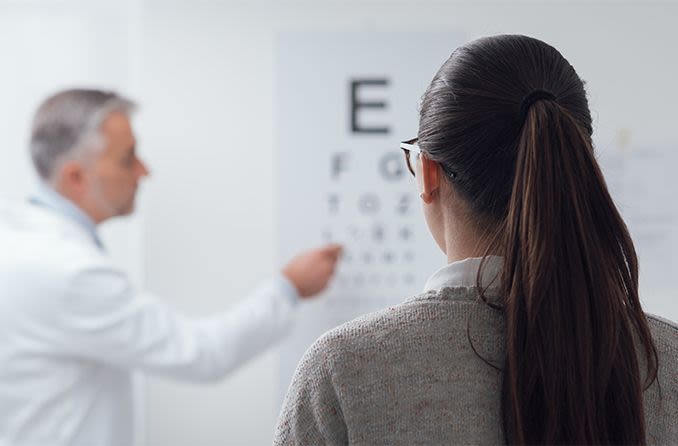 Can LASIK eye surgery fix astigmatism?
What is Astigmatism ? Astigmatism is a common type of refractive error and while it is usually present at birth,…
Read More