What is Penetrating Keratoplasty?
The traditional cornea transplant is known as a penetrating keratoplasty. It is a full-thickness, complete transplant of the damaged or diseased cornea with a donor cornea. The cornea is the thin, clear dome at the front of the eye. It is the part of the eye that a contact lens sits on. In order to see your best, it must be clear and compact so that you can easily see through it. Should it become swollen, hazy or scarred, your vision would decrease dramatically.
Is Penetrating Keratoplasty Right for Me?
If you suffer from poor vision or chronic pain from a corneal condition, disease, or injury then you may be a good candidate for a corneal transplant. Because penetrating keratoplasty involves a complete replacement of the full thickness of the cornea, it is often the best treatment option for those with more severe corneal disease.
Penetrating Keratoplasty Procedure
The corneal tissue used in corneal transplants comes from recently deceased donors. They have no history of known diseases or other factors that would affect the chance of success of the donated tissue or health of the recipient. Donors can be of any age.
Penetrating keratoplasty is an outpatient procedure. This means that you can go home the same day as your surgery. Before the penetrating keratoplasty procedure begins, local or general anesthesia is administered by an anesthesiologist. Your eye surgeon will then use a trephine, a circular cutting device, to cut the donor cornea to the exact shape and size that is needed.
A second trephine is then used to remove a matching part of your cornea. At this time the surgeon inserts the donor tissue and it is sewn into place with multiple sutures. The doctor will then apply antibiotic eye drops and cover the eye with a protective shield.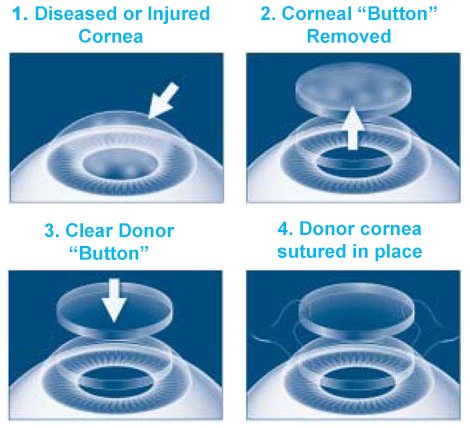 What to Expect After Penetrating Keratoplasty
A penetrating keratoplasty is an outpatient procedure. This means that you can go home the same day as your surgery. Most you will return the following day for a post-operative appointment.
After the transplant medicated eye drops are used in the subsequent weeks and months to aid the healing process. After the procedure, you may find that your vision is blurry while the eye adjusts to the new cornea. While recovery times vary, you will find that your eyes heal, and vision improves over the course of a few months after surgery. You will want to make sure to have someone accompany you to surgery so you do not have to drive yourself home.
Following the procedure, it is important to protect the eye as much as possible. Your doctor may recommend that you wear a protective shield during this time and avoiding activities which may cause trauma to the eye.
Vision Expectations After Corneal Transplant
Despite a perfectly performed corneal transplant, and the transplant working as well as it can be, other eye problems may limit the quality of your vision post-operatively. The new cornea may have a significant amount of astigmatism and glasses, or special contacts may be required to improve vision. Other eye diseases such as macular degeneration, diabetic retinopathy, or glaucoma may also limit your quality of vision and prevent you from seeing 20/20. It is very important to follow up with regular eye examinations with your doctor to avoid damaging your vision.
Signs and Symptoms of Cornea Rejection
One of the most concerning complications of cornea transplant is organ (cornea) rejection. Rejection means your body's immune system identifies the donated cornea as foreign and tries to fight off the transplant. You will take eye drops for at least a year following surgery to reduce the risk of rejection.
Risk of rejection varies based on the surgical technique used and on the condition of your eye. Conditions like dry eye, blood vessels growing in the cornea, and eye infections increase the chance of rejection. In some eyes, a transplant will have a very high risk of rejection and your surgeon may recommend against surgery. Ask your doctor how the condition of your eye affects the chances of rejection.
Other complications of cornea transplant surgery include:
Infection – in the cornea or inside the eye
Bleeding
Glaucoma (increased pressure inside your eye)
Fluid leakage from your cornea
Detached retina (tissue lining the back of the eye pulls away from the eye)
Visual acuity problems (sharpness of the vision) caused by an irregular curve in the shape of the cornea
Detachment of the corneal transplant (for the endothelial transplant which is held in place by an air bubble)
For most people, cornea transplant is very successful in the long-term. Your surgeon can help you decide if cornea transplant is right for you.
Contact SightMD today to schedule an appointment with one of our doctors to discuss your vision health at one of our convenient locations!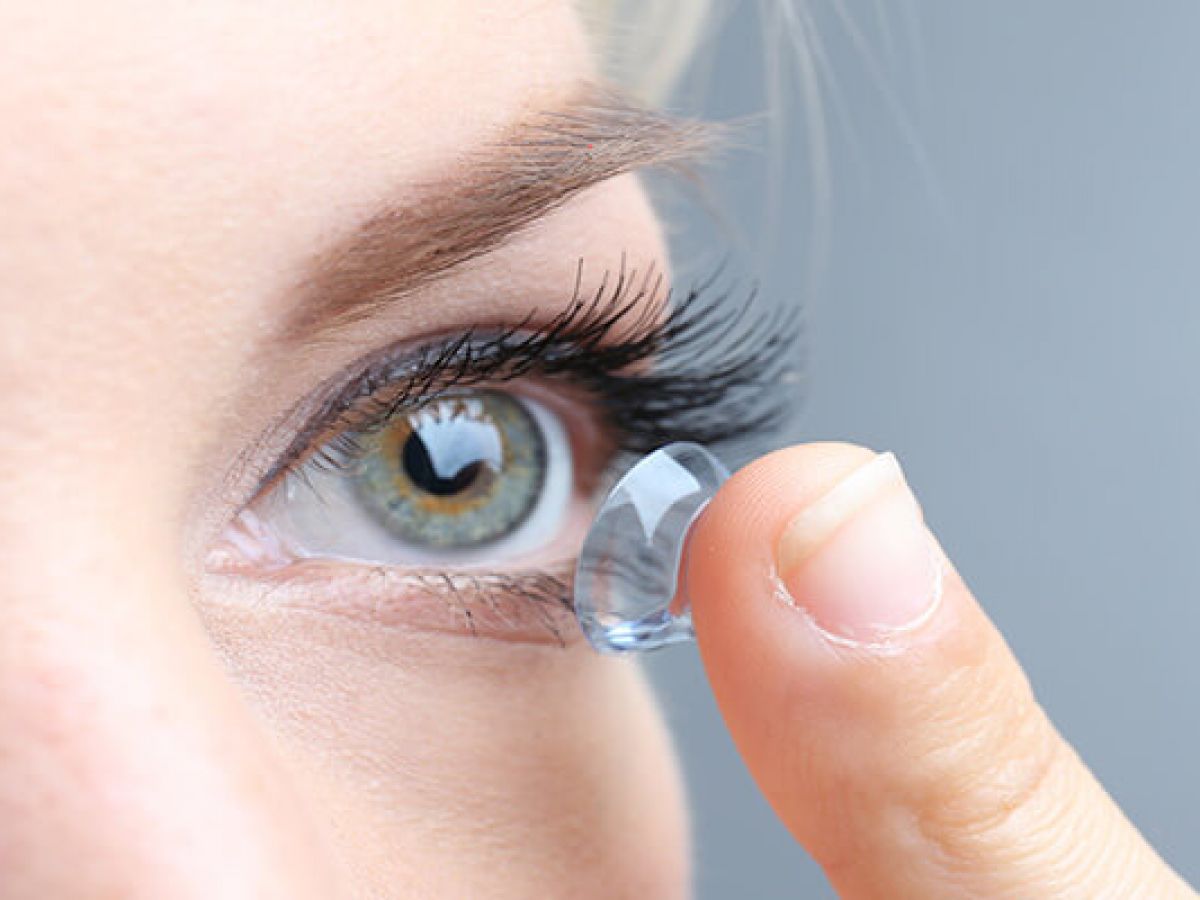 Bad Habits To Avoid When Using Contact Lens That Can Endanger Your Eyes
Contact lenses can change your world. While many people prefer the look and ease of glasses, others enjoy the freedom…
Read More